SEO stands for Search engine optimization. It is the process to get a higher ranking of a webpage or website on a search engine result by using the correct keywords and phrases. The importance of SEO starts with the desire of companies to gain more and more traffic for their websites.
A search engine is also known as answer machines of all the queries. Search engine optimization is about understanding what people are searching for online, the answers they are trying to find, the words they are using, and the type of content they wish to consume.
There are two types of search engine optimization

On Page SEO refers to all the actions performed on the websites to earn higher ranking with good traffic. Some aspects it includes meta tags, meta description, title tags and heading tags.

Off Page SEO is used to develop the position of a website in the search engine result page. It has many aspects such as promotional activities, content marketing, social media and link building.
Two types of methods are included in SEO

The method which is acceptable by search engine guideline is known as White Hat SEO. For example quality content, related titles, Meta tags, H1, etc.

The method which is not acceptable by the search engine is known as Black Hat SEO. For Example hidden text, cloaking, spamdexing, etc.
In other words, Search Engine Optimization services can adopt two prominent techniques for ranking well on search engines. The one is referred to as a white hat approach. The white hat methods create content for the user benefit. Whereas Black hat techniques are based on methods of duplicacy, which are not acceptable by the search engine.

Benefits of SEO

Generate More traffic to your website
The main purpose of SEO is to get more and more traffic to your website. If you hire an SEO firm, then, they can help you to generate more traffic to your website and more people came to know about your brand.

A greater user experience
User experience is part of ranking factors. Most of the website can be easy to use a mobile device because the majority of people will find you. At the time of optimizing your website for SEO, you are trying to make a good impression on your visitors. When your visitors are happy it means higher conversion rates and you can smoothly make your incentives on time.

More and more people notice you because you are at the top of the result pages. This leads to an increase in brand awareness.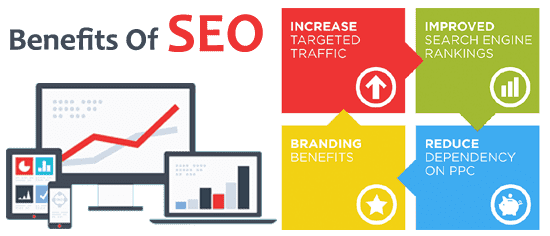 The main motive of SEO assistant to get a higher ranking on the top searches of Google. There are different types of methods to get higher ranking  check out here to know about how to rank your website to the top of the search engine results.